If you used to follow this blog back in 2013, you'd know me as a pretty serious runner. Serious about my mileage - not so serious about entering races, PR'ing or even seeing any improvement. As long as I met the mile quota, my work was done and there was nothing more to gain from it.
It all started in the fall of 2009 once I realized that being an ex-collegiate athlete would mean I'd have to fill the void of the workouts I wasn't
forced to do
getting anymore. I was tired of lifting weights and "bulking", so my sweat of choice became running. I'd always enjoyed running because it was a great way to escape from my own mind and was also an opportunity to explore the beautiful city that I lived in.
When I decide on something, I've been known to go all out with it. So starting in November of 2009 I set a goal of running 100 miles a month. Crazy, right? Well I was flawless with that goal for nearly four years up until September of 2013.
If you hate math like I do, pretend I ran 10 minutes per mile on average meant 1,000 minutes on the road PER MONTH. This investment of 17 hours per month easily turned into a solid day after you also factored in the time it was taking to change, stretch, shower and of course stop mid-run to take the necessary
instagram
selfies of my right leg in running tights.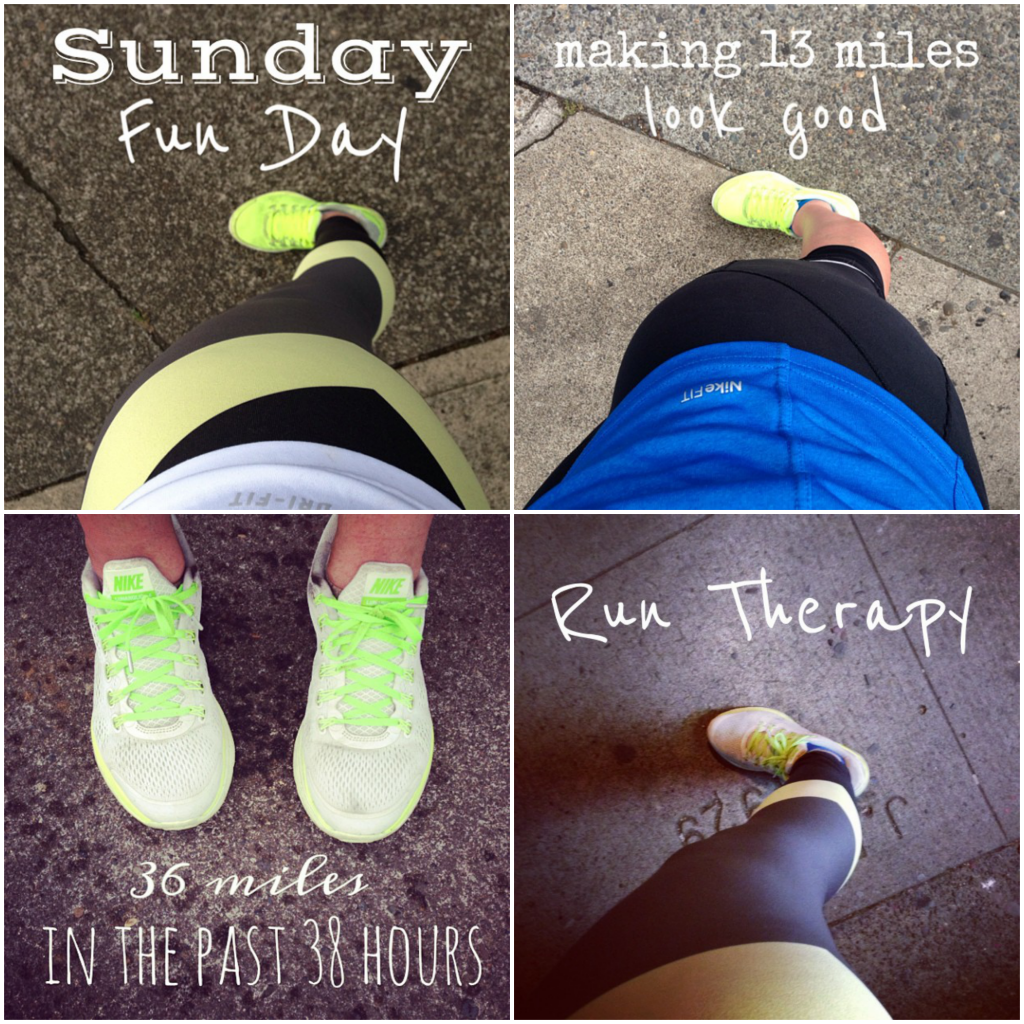 When I look back at the amount of time I put into running, preparing to run and thinking about running - I wonder what all I missed out on. I know for a fact now that my body responds better to weight lifting, but never gave it the chance. I know now that I hurt relationships because I placed running on a higher level of importance than people. I also know that I spent a lot of money on all things running and that was even after a huge discount because of the company I work for.
When I missed my goal by 16 miles in September of 2013 it was a huge relief. The pressure was off and it was much like the first 'B' I got in a college course I slacked off in my freshman year.
From that point on I decided that I'd cut my goal in half. Only 50 miles a month and focus more on weight training and keeping my body healthy. It was three quick months of that regimen before we entered 2014. I found myself opening up my schedule for living.
Surprisingly, I didn't run a single mile in January or February, and just laced up for my first run of the year on Saturday. The beautiful thing about the run on Saturday is that there was no "plan" in mind. It was to get out in the sunshine and start my lifting workout with a shake-out. It was also strategic that I chose to run a route I'd never done before so that I wouldn't be able to count the mileage.
The experience was blissful.
I think I'm okay with being a recreational and fair-weather Portland runner. It looked good on me.