Before we talk about stress and how I'm dealing with it, let's give a huge Happy Birthday, gurrrl to Babbling Brookelyn!
Last year I got you a West Elm cutting board, and this year Ryan Gosling? Yeah I know I've stepped up my game.
Anyway back to this little thing called 'stress'.
I'm always so careful about what I wear, what impression I'm making and how other people perceive me, but lately I've forgotten to take an inventory of how I feel.
Simply put, I've neglected to admit to myself for the past few months that I'm stressed out.
Stress damages relationships, puts personal goals on hold and takes a serious toll on health. Stress negatively impacts eating habits and often leaves me feeling like I have no control.
Now that I've disclosed my stress and am facing it head on, I'm actively seeking ways to suppress the way I'm feeling and handle it efficiently rather than stress even more over it. I've got the exercise part down, even though I have 46 miles remaining to run in the next 6 days so the next place for me to research is the foods I'm consuming. 
I began this path by googling (scientific research, I know) foods that reduce stress. Interestingly, most everything that came back all fell into a very distinct category and followed after a 'trend diet' I've heard and seen a lot about lately. 
Vegetables
|| Spinach | Carrots | Asparagus ||
Fruits
|| Citrus fruits | Avocados | Berries ||
Meats
|| Salmon | Turkey | Grass Fed Beef ||
Nuts & Seeds
|| Almonds | Walnuts | Sunflower seeds ||
Immediately I was sold on going the route of clean and natural with the Paleo diet, so get outta my cart, cereal!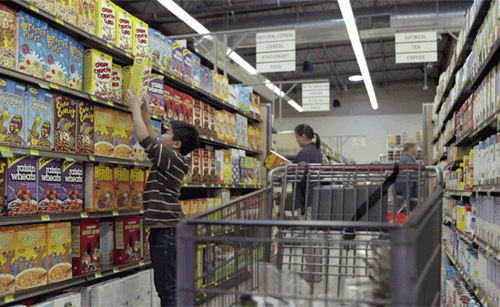 Sorry I'm not sorry if you follow me on instagram and you've seen the beautiful foods I've been nomming for two weeks. 
Do I feel like it's worked? Heck yes I do! Reaching for fruits and vegetables when I'm hungry wakes me up and doesn't give me the crash that sugary crap does.
In fact, it's been more difficult to teach Dan what Paleo is than it has been to follow the rules. Just the past week he brought me home a latte, prepared a salmon burger with pepperjack cheese, reminded me that I didn't use my rice from our take-out stir fry, set out yogurt and granola bars for my lunch, asked if I wanted pizza for dinner, asked if i wanted a bowl of dry cereal... (ALL AMAZINGLY NICE THINGS). If you're like him and don't exactly know the rules, you'll probably learn a thing or two from Cats showing us how to do Paleo.
Some great places on the internet that have me headed in the right direction:
15 Mouthwatering No Bread Sandwiches
Thank you for your support as I try to use the way I treat my body to reduce the stress I subject it to.
Ready for the weekend?