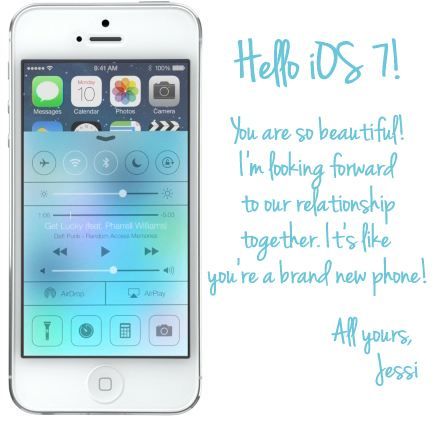 This post is going to seem like a rant, but really I'm thrilled with all of the pretty happening on my iPhone.
Here's how it happened - I'd forgotten that the iOS 7 update was yesterday and didn't even check social media to see how much fun everyone was already having without me. When I finally caught the news it was 4:45pm and I had only a few more things to finish up at work. Knowing that Dan always is the first to update iOS besides those in Silicon Valley, I asked how long his took from start to finish.
Disbelief and excitement his me when he texted back "like 10 minutes".
My "like 10 minutes" was "like 90 minutes" and once I began the update there was no backing out.
So like any eager iPhone 5 user I waited.

Then verified...

and updated firmware...

and software...

and waited...
The next thing I saw on my screen was a 'fatal error' message that kicked my iPhone into recovery mode.
Recovery mode is a dark and terrifying place where you're told that your only option is to restore to factory settings and all you can do is agree to it, then agree to the Terms and Conditions, then cross your fingers that your latest back-up saved the perfectly lighting selfie from your bathroom this morning. We all wish to be so lucky.
After 90 minutes of horror and worry about my baby and even a few app casualties, this story ends happily and I'm smitten with my iPhone. So beautiful that I wish the entire world could be seen through the lens of iOS 7 (Chrome, where you at?).
After I updated all of my apps and got everything organized the way I wanted it, I was happier than this puppy in a room full of balloons:
If you haven't updated yet, check out the
Apple video
and back up your phone!