Typically around here at the end of the month I do a recap of all the wonderful things that happened to me over the past 30 days.
So August?
August had a lot of great. A lot of tough. A lot of hard. A lot of fun. And little to no blogging #oops.
Let's get right to the g o o d:

+ I had an amazing blate (Blogger Date) with Marisa who was in town to surprise her dad for his birthday! I was so thrilled we were able to connect and just as happy that we met up at Por Que No for some drinks and appetizers. #nom
+ I somehow completed my 100 mile feat for the month and it wasn't easy. While my guy was running Hood to Coast - I spent a weekend running as much as I felt was possible for my weary legs and logged 36 miles over a span of 38 hours. Ka-ching!
I still had 9 miles remaining when I returned home on Saturday the 31st, but made quick work of that in the mid summer evening and did a celebration dance as I hurried past my driveway for the last triumphant steps.
+ Made it to one year with this guy - even though we still haven't celebrated (see below for frowny faces):
+ I met some awesome people at work through my travels to Canada and wish I had more peers to play with who were as dedicated to work as I am. Geeking-out with people who are impressed my my Excel mastery is a wonderful thing. They also knew how to get me to come out of my shell a little bit. Beer in a Bag, anyone?
Work and work travel caused me to miss several wonderful things this month that I would have loved to be a part of. 


Hood to Coast


Intramural Softball


My Cousin's Beautiful Barn Wedding


My Own 1 Year Anniversary Celebration (are we still going to celebrate, Dan?)


Thirst Thursdays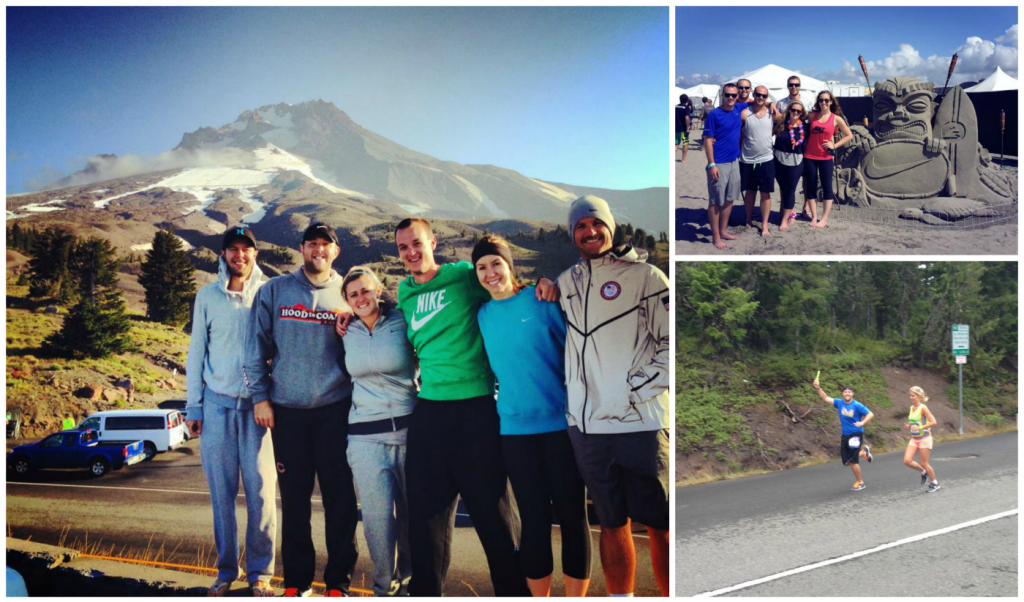 Doesn't my Hood to Coast family look like FUN!?
Hopefully a new month will bring winds of change - for the better!