Wow, I can't imagine being Dan this morning. Coming off of nine whole days of sleeping in and logging more than 48 hours of actual game-play on the new game Grand Theft Auto 5. He's had it easy (okay he also did a lot of house work) and it almost makes me want to take a week off of work for no good reason. Or maybe at least start an alternate work schedule where I work from home 2 days a week.
I also was in shock that Dan spent an entire weekend without stepping foot onto a golf course, even though he had plans to both days - work and play. To hear my honey repeat "I'm so happy I'm not playing golf today" made me check his temperature and almost call in sick for him this morning and call a doctor. 
We didn't catch much football this weekend but the only game that mattered was the game his Chicago Bears won Sunday night. That excitement plus the dramatic second to last episode of Breaking Bad makes me wish we had just one more day to relax.
I think we hit Fall here in Portland without even getting to see the beautiful leaves change colors. This weekend I ran 20 miles in pants and long sleeves and didn't even get fussy about it. 13 miles on Saturday and a follow-up shake out 7 on Sunday has me feeling a little tight in the glutes - I'm not in marathon training mode and just because my brain said 13 would be easy, it doesn't mean that my quad's and IT bands feel the same way. At least I was able to instagram it before iOS 7 killed my battery.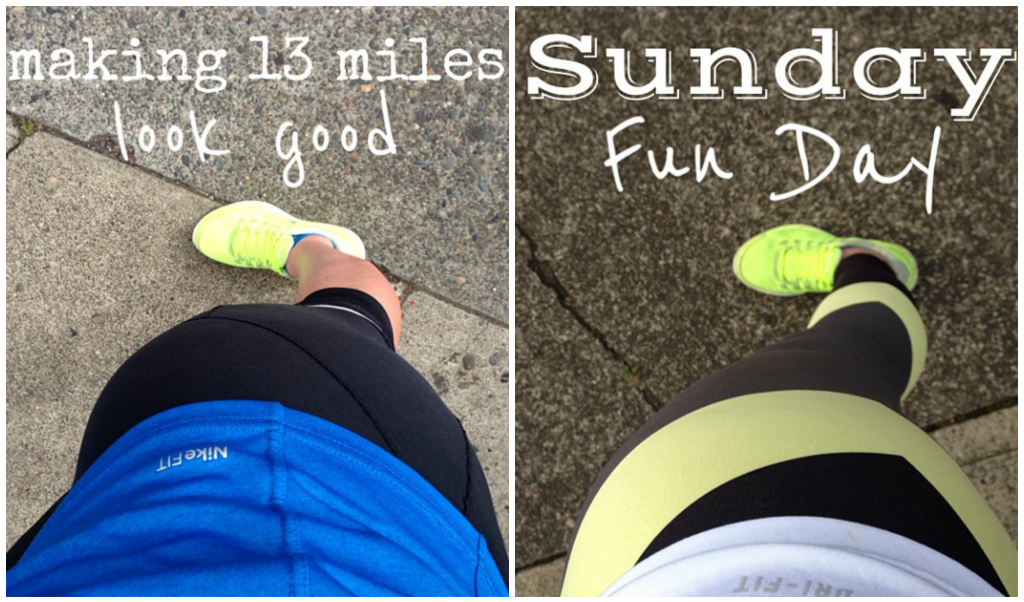 Yes, I'm also impressed that I was able to get the same pose. I wonder what filter the people honking in the cars driving by thought I should use.
Have a great week, here's your PSA to remember to stretch!